How Many Quails Should You Start With?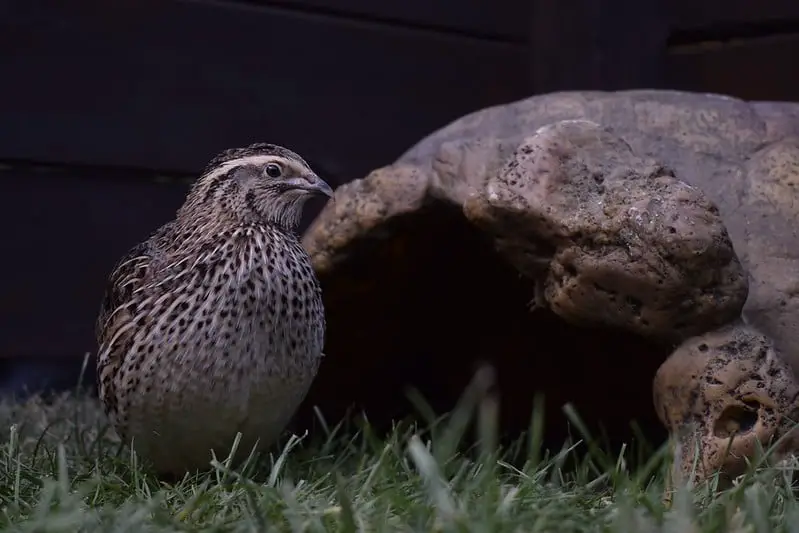 How many quail should you start with?
Breeding quails is fun, interesting, and very profitable but if you have already decided or are still thinking about it the first step is to acquire the quails, so the first question that arises is how many quails should I start with?
Well, here I can give you some important advice, the amount of quails you can have is very much related to the space you have, but to begin with, the idea is to start with a small number of quails and then go up in quantity.
If you have enough space and you want to start breeding quails, you can start with a small batch of between 25 and 100 quails, and increase as you gain experience.
In large quail farms, quails are grouped in different ways for mating, in individual cages and separate pairs. Generally, four females are used for each male quail, in that sense, it could be said that the minimum unit for groups of quail is 5.
It is also used to separate quails into groups of 25, 50, or 100 females and place males in the proportion of 25%, that is, for every 100 quails, there must be 75 females and 25 males.
Characteristics that quails must have in order to be selected
One of the main reasons for acquiring quail for breeding is for the production of eggs, therefore, when selecting quail, certain factors must be taken into account to guarantee efficient production and adequate performance in terms of reproduction.
The quails to be selected for this purpose must have the following characteristics:
Males: Develops early, strong, and well-proportioned build, lively, with full plumage and in good condition. Dark-colored feathers and tan on the chest as intense as possible. Black bill, genital apparatus with a reddish protuberance and size of a chickpea grain.
Females: Also of early development, well proportioned and with the plumage of dark color, complete and brilliant. Elongated neck and a small head.
How many quails in 1 square meter?
Space is one of the determinants of the number of quails that can be held, although quails have the advantage that when they are in breeding cages they can be stacked and take advantage of vertical space.
If you have a fairly large space, the recurring question is how many quail you could have in 1 M2 of space.
According to breeders' recommendations, a maximum of 28 quails can be kept in a space of 1 M2, in some cases, some people are used to having more than this amount.
If the quail are kept mainly by quail eggs, 3 – 4 quails per m2 are a good balance between proper preservation for the species and a compact size of the quail house.
If you want to observe the natural behavior of the quail and structure the enclosure with a sandy area, many plants, and hiding places, 6-8 quails in 5 m² of stable space are recommended.
The cage space for quails
It is recommended to have modules of 5 cages, (one cage on top of the other) each cage with 3 compartments and in each compartment 7 to 10 birds, depending on the climate of the region. This way there will be 21 to 30 birds per cage and 105 to 150 birds per module. The cages should be metallic to allow perfect cleaning.
The floor grids of the cages with an opening of not less than 10 mm. It is also not recommended that this opening be very wide as the animals may put their legs there and hurt themselves.
It is advisable to always use the "Roll Way" sloping floor system to facilitate egg collection. Dung trays, as well as plastic feeders and drinkers, are more recommended.
But these cage arrangements are for large-scale quail breeding, remember that as a beginner you can start with only one cage and if you have the space, then you can climb up to convert the modules.
What to do if you don't have enough space for the quails?
If you have very little space and you want to have quails anyway, you can do it, you can start with a couple of Chinese Dwarf Quail that are much smaller, with a space of one square meter is enough to have these birds.
Starting to breed quails with minimum space
Let's assume that you would like to start breeding quails and maintain 5 quails as well as possible without difficulties for the species. You don't really want to build big projects and only want to try the hobby.
In this case, you should buy a cage for rabbits with free movement. A slightly larger rabbit hutch, which fulfills the characteristics described in this topic, should ideally be high enough.
Be sure that the area of the barn is at least 0.5 to 1 m². Quail usually stay in a stable area, especially in winter when the temperature is cold.
The best quail breed for beginners
The Japanese type of quail is considered one of the best, as it has a high production of eggs even during molting which is usually a period when quail do not lay eggs.
The birds of the pharaoh species, although they have high body weight, are not very suitable for beginners, as they require periodic updating of the flock, are very demanding in feeding and maintenance, and are not very laying.
Japanese quail breeding is remarkable for its simplicity. In fact, the conditions for keeping the birds are not pretentious. In addition, they are not very susceptible to various diseases. Females begin to run around at 1.5 months.